---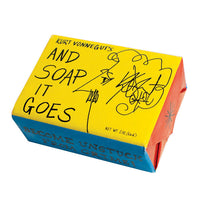 Smell like you've been in the Monkey House? Grab a bar of Kurt Vonnegut's "And Soap it Goes" for a feeling as clean as Palm Sunday.

God bless you, it's rosewater scented.

Try the rest of our FOAM SWEET FOAM soaps!

Does ordinary soap leave your bathroom dull? Make your sink or tub interesting with these smart little soaps!

Ponder.
Rinse.
Repeat.

2 oz. / .56 g.

NOT TESTED ON ANIMALS 

Made in the USA.