---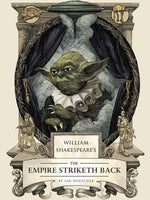 The saga that began with the interstellar best seller William Shakespeare's Star Wars continues with this merry reimagining of George Lucas's enduring classic The Empire Strikes Back.
Many a fortnight have passed since the destruction of the Death Star. Young Luke Skywalker and his friends have taken refuge on the ice planet of Hoth, where the evil Darth Vader has hatched a cold-blooded plan to capture them. Only with the help of a little green Jedi Master—and a swaggering rascal named Lando Calrissian—can our heroes escape the Empire's wrath. And only then will Lord Vader learn how sharper than a tauntaun's tooth it is to have a Jedi child.
What light through Yoda's window breaks? Methinks you'll find out in the pages of The Empire Striketh Back!
IAN DOESCHER the author of William Shakespeare's Star Wars®: Verily, a New Hope. He lives with his family in Portland, Oregon.
Praise for William Shakespeare's Star Wars: "...a quirky addition to the genre-busting canon..."—Entertainment Weekly
Praise for William Shakespeare's Star Wars: "As Shakespeare would say, you might think, this be madness, yet there is a method in 't."—Newsday
Praise for William Shakespeare's Star Wars: "At last, the mother of all mashups is upon us."--CNET.com