---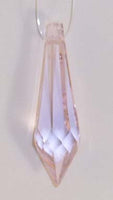 Swarovski® Austrian Crystal

These Crystals will brighten any room. Hang them where the sun will shine through and send rainbows all over your room. As far as rainbows go, the general rule of thumb to follow is: the more facets there are, the more rainbows, the bigger the facet the bigger the rainbow.
This shade of pink is very hard to photograph.  Almost clear, it has the lightest shade of Rosaline and is just lovely.