---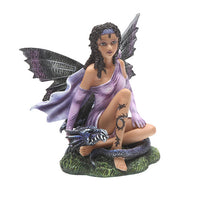 Make a magical statement with this unique Fairy with Black Dragon! This beautiful sculpture features an intricately detailed fairy with a black dragon twined around her. Whether used as an eye-catching display piece or as part of a fantasy-themed collection, it's sure to make a lasting impression!
Approx Demensions: 4.9" X 3.5" X 4.7"
Material: Cold Cast Resin
Description: Hand Painted
Amy Brown's beautiful artwork has come to life!