---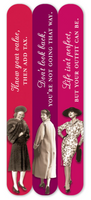 Know your value, then add tax.
Don't look back, you're not going that way.
Life isn't perfect, but your outfit can be.
Vintage Awesomeness meets Fabulously Funny and puts the FUN in FUNctional!
3 Fun Emery Boards in a soft plastic case.  Remind yourself how fabulous you are while you fix any minor imperfections.
Sturdy and double-sided, makes manicures and touch-ups easy! One colorful side features a vintage photo and sassy saying, with pretty patterns on the back. Each set contains three styles, all in one handy dandy vinyl case. File these under fabulous!
Emery board size: 13/16" x 5 7/8". Package size: 3 7/8" x 6".