---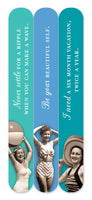 Never settle for a ripple when you can make a wave.
Be your beautiful self.
I need a six month vacation twice a year.
Vintage Awesomeness meets Fabulously Funny and puts the FUN in FUNctional!
3 Fun Emery Boards in a soft plastic case.  Remind yourself how fabulous you are while you fix any minor imperfections.
2.75" x 6.25" x .2"