---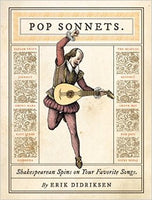 Hardcover book Dimensions:
5 1/4 x 7
Page Count: 128
The Bard meets the Backstreet Boys in Pop Sonnets, a collection of 100 classic pop songs reimagined as Shakespearean sonnets.
All your favorite songs are here, including hits by Jay-Z, Johnny Cash, Katy Perry, Michael Jackson, Talking Heads, and many others. With stirring sentiments on everything from love and despair to wanton women, Pop Sonnets offers inspirational verse for every occasion.
Praise
"One of the very best collections of pop songs written in the style of William Shakespeare that I've read so far this year!"—"Weird Al" Yankovic
"Pop Sonnets is one of the absolute best of the disreputable breed of impulse-buy humor books. Didriksen brings an authentic dedication to craft and a lively sense of humor to this highly specific project."—NPR
"This is a must-have for literary buffs and music fans alike."—Paste magazine
"Smart and funny...Any reader who is intrigued by this concept will enjoy its fantastically skilled execution."—Library Journal
"This book is made for drinking games or could moonlight as a pub quiz helper, and a well-loved teaching resource."—Monsters & Critics