---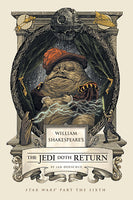 Return to the star-crossed galaxy far, far away as the brooding young hero, a power-mad emperor, and their jesting droids match wits, struggle for power, and soliloquize in elegant and impeccable iambic pentameter.
Illustrated with beautiful black-and-white Elizabethan-style artwork, these two plays offer essential reading for all ages. Something Wookiee this way comes!
IAN DOESCHER the author of William Shakespeare's Star Wars®: Verily, a New Hope. He lives with his family in Portland, Oregon.
Praise for William Shakespeare's Star Wars: "...a quirky addition to the genre-busting canon..."—Entertainment Weekly
Praise for William Shakespeare's Star Wars: "As Shakespeare would say, you might think, this be madness, yet there is a method in 't."—Newsday
Praise for William Shakespeare's Star Wars: "At last, the mother of all mashups is upon us."--CNET.com
"For those who enjoyed Doescher's first two retellings, rejoice, for the merriment plays on." —The Free Lance-Star