---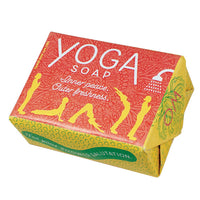 YOGA SOAP gives you that light, fresh feeling you just don't get from washing with yak butter. Try it today for a nicer Namaste.

Cucumber olive oil scent.

Try the rest of our FOAM SWEET FOAM soaps!

Does ordinary soap leave your bathroom dull? Make your sink or tub interesting with these smart little soaps!

Ponder.
Rinse.
Repeat.

2 oz. / .56 g.

NOT TESTED ON ANIMALS 

Made in the USA.