---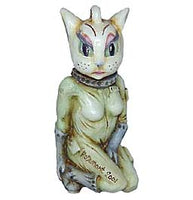 Sale
Artist: Adam Binder
Subset Name: Event Piece
Exclusive To: June 2001 ICE Attendees
Made In: China
Status: Event
Carving Date: 2001
Release Date: 2/15/2001
Edition Size: 3000
Dimensions (Inches): .75 x .75 x 2
Ordering Information: Available through the secondary market.

S e c r e t s

This solid-bodied pendant was created especially for Royal Watch members who attended the June 2001 ICE in Rosemont, Illinois and for those who signed up to the club while at the show. "Rosemont 2001" is carved on Minx's leg.