---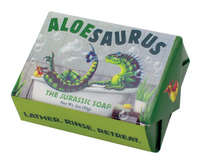 Aloesaurus Jurassic Soap leaves all your terrible lizards clean and fresh. Excavates the dirt from tiny claws – no more sticky Archaeopteryx! Long-lasting, so it's the perfect soap for thunder lizard sleep-over parties. Discover the dinosaur footprints tracking across every bar.

[Aloe/cucumber]

Does ordinary soap leave your bathroom dull? Make your sink or tub interesting with these smart little soaps!

Ponder.
Rinse.
Repeat.

2 oz. / .56 g.

NOT TESTED ON ANIMALS 

Made in the USA.