---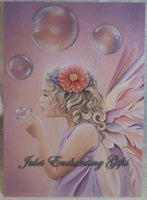 These 5" x 7" Fairy Art Prints are perfect for framing, either in a simple 5 x 7 frame, or with a matte in a larger frame. I have several in my home and they are just stunning!  Also beautiful on memory boards, in scrapbooks or photo albums, really, they can go anywhere!
Contemporary American artist Jessica Galbreth began her career in 1999 with a modest web site after attending the University of Toledo's Fine Arts program with a focus on drawing and painting.
Over the years, Jessica's fantasy art, named the Enchanted Art Collection, became well known throughout the world. He work was translated into hundreds of different products from greeting cards to collectible resin figurines, and everything in between, and was sold in specialty gift shops and retail chains. She won numerous awards for her work, and continued to gain popularity world-wide. With distributors in the United Kingdom, Australia, Canada and Germany, Jessica truly became an internationally acclaimed fantasy artist.
In 2010, Jessica turned a page in her career and started what is now known as the Vintage Angel Collection. Jessica retired her Enchanted Art Collection, and now creates exclusively for her Vintage Angel line which is comprised of angelic images celebrating light, hope, faith and love. Jessica understands that angels transcend religious barriers with a common sense of peace and wonder, and hopes that her work will touch others from many walks of life.