---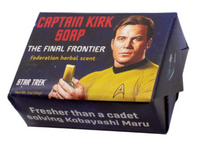 Introducing Captain Kirk Boldy Go Soap, your ticket to an out-of-this-world shower experience! Boldly go against boring hygiene with this Star Trek-themed soap and its herbal scent. You'll almost feel like Captain Kirk himself as you scrub away your worries of the day. Engage!
When you lather up with fresh, invigorating Captain Kirk soap, you'll feel ready to BOLDLY GO! (It's also a lovely little gift for Vulcan dignitaries – not to mention a thoughtful guest soap Elasians will love.) 
[herbal scent]


Try the rest of our FOAM SWEET FOAM soaps!
Does ordinary soap leave your bathroom dull? Make your sink or tub interesting with these smart little soaps!
Ponder.
Rinse.
Repeat.
2 oz. / .56 g.

NOT TESTED ON ANIMALS 
Made in the USA.