---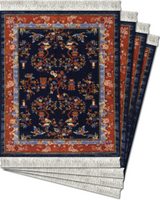 The "Emperor's Garden" rug inspiring this design is an exquisite example of the "Peking" style which gained status and popularity during the latter decades of the 19th century. This was a time when China opened its vast workforce, in the form of large weaving "factories," to the Western world. A trademark of this style, which reached its zenith of popularity during the 1940s, is its use of pictorial elements, such as pagodas, vases, and realistically drawn flowers, birds, and butterflies.
5.5 x 3.5 x .16 in each
Set of 4 Coasters
People want value; and LextraRugs are the only coasters that you can be assured people will keep: from genuine carpet fringe to the soft, rich touch of magical Lextra fibers, these will be coveted instead of tossed away!
Made in the USA.