---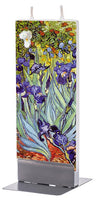 These are probably the most unusual candles I've ever seen.  When I first spotted them in a catalog I had to stop for a second look.  Who ever heard of a flat candle with artwork hand painted on it?  Why Flatyz, of course!  Scentless, dripless and smokeless, these are perfect for gift giving to absolutely everyone on your list.  There is no one I can think of who wouldn't want one!  Also great for corporate gifting or tucking into a gift card to mail.
2.4" wide x 5.9" tall x 0.4" depth (roughly the size of a cell phone)
Hand poured and decorated in Lithuania
They come with an easy-to-assemble steel base thus no need for any additional stand/tray
Self-extinguishing
Burning time 3-4 Hours (but they're almost too pretty to burn!)
High-quality German raw materials – Organic cotton wicks, paraffin, safe/certified paints
In 2012, FLATYZ was born, with the desire to express the full potential of creative souls by designing handmade products while using the highest quality natural ingredients.  They set out to create a unique, handmade candle.  After three years of R&D the product was finally perfected, and the result was a FLAT and NON-DRIPPING candle which came with its own stand for which the product patent followed.  Having a flat candle surface encouraged a myriad of creative ideas in terms of designs and application techniques for applying the art on to the paraffin canvas.