---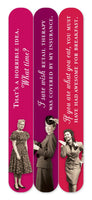 That's a Horrible Idea.  What time?

I sure wish Retail Therapy was Covered by My Insurance.
If you are what you eat, you must have had Awesome for Breakfast.
Vintage Awesomeness meets Fabulously Funny and puts the FUN in FUNctional!
3 Fun Emery Boards in a soft plastic case.  Remind yourself how fabulous you are while you fix any minor imperfections.
2.75" x 6.25" x .2"