---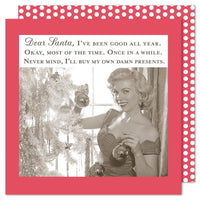 Dear Santa, I've been good all year.  Okay, most of the time. Once in a while. Never mind, I'll buy my own damn presents.
Vintage Awesomeness meets Fabulously Funny and puts the FUN in FUNctional!
Our biodegradable napkins are printed on 3-ply, totally chlorine free (TCF), FSC-certified tissue with water-based ink.
Size: 5" x 5" folded
Each package contains 20 Napkins