---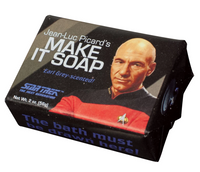 Boldly Go… (then hit the showers when you get back) with Jean-Luc Picard's MAKE IT SOAP. 

Earl Grey, bergamot 

Try the rest of our FOAM SWEET FOAM soaps! 

Does ordinary soap leave your bathroom dull? Make your sink or tub interesting with these smart little soaps! 

Ponder. 
Rinse. 
Repeat. 

2 oz. / 56 g. 

NOT TESTED ON ANIMALS Made in the USA.