---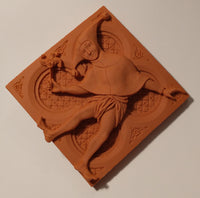 From the Greenwood
This casting is part of a range of wall plaques and sculptures created by David Lawrence reflecting the hidden myths and traditions of Britain. 
Jester is Approximately 5.5" wide and comes in Terra Cotta
This cache of David Lawrence treasures was discovered when I purchased the contents of a storage unit from a shop that closed down several years ago.  It sat in storage until I purchased the lot.  When I tried to find more information about this line I discovered they are VERY hard to find anywhere!  David Lawrence doesn't seem to be currently making any of his stone creations, so they are very limited, and when they're gone, they're gone forever.
These castings are designed, sculpted and manufactured in England, using resin-bonded marble, bronze and Cotswold stone.  Modern moulding techniques faithfully reproduce the intricate and painstaking work of the sculptor whilst giving the appearance of the real carved stone or sculpted terra cotta.  The castings are weatherproof, the plaques having a hole drilled in the back for easy hanging.
The story of these isles is written in the wrecks and remains a thousand generations have left behind them.  This is a land that has seen many peoples, many faiths and superstitions and many fables.  Images of saints and rogues are written on hillsides, upon the facades of Cathedrals, hidden in museum vaults and upon the pages of crumbling manuscripts ...  Jewels remain to be discovered in the corner of a plowed field, treasures in the attic... The ancient seasonal ceremonies and beliefs are all but lost and forgotten now, yet a figure which came to symbolize their strengths, the Greenman, continues to hold a fascination for us, even today: for the power and importance of the Greenwood upon the humble man is too strong to be ignored or suppressed.  Meticulously researched and sculpted this new collectable range reflects the "Tales from the Greenwood" - revealing glimpses of an ancient mysterious and forgotten past.  
David Lawrence
Despite living in rustic isolation in a hidden corner of Somerset and pursuing the archaic country activities of Morris Dancing, cider drinking and studied eccentricity, Artist and Sculptor David Lawrence has, in recent years, and almost in spite of himself, enjoyed marked international acclaim for his ingenious and witty creations.  His fevered, vivid and prolific imagination has been harnessed to create several collectable ranges, "From the Greenwood" being but one.