---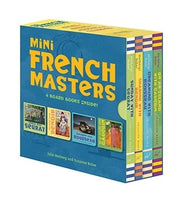 5&7/8" x 5&5/8" x 2&5/8", 4 books/22 pages each, Ages Infant-4+
Written by Julie Merberg & Suzanne Bober
This keepsake collection of board books from the bestselling Mini Masters series brings the world's great French masterpieces down to size. Each title pairs simple verse with some of the most beloved paintings of our time. A lovely way to introduce children to the wonder-filled works of Georges Seurat, Henri Rousseau, Paul Gauguin, and Auguste Renoir, this first library of fine art is sure to enchant budding artists and art lovers alike.

"With their bright layout and sturdy construction, the books are simple enough to appeal to children who aren't old enough to lisp out the word Dada." - The New York Times
Julie Merberg is the founder and president of Downtown Bookworks and the author of many books for children. She lives in Manhattan.

Suzanne Bober worked as a magazine and book editor before co-authoring the Mini Masters series. She now lives in Aspen, Colorado.