---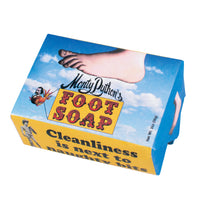 Fans of Monty Python's Flying Circus will fall for the classic images of Monty Python's Foot Soap – and we stamped the iconic foot right on the bar for "something completely different."

honey and oatmeal, exfoliating

Try the rest of our FOAM SWEET FOAM soaps!

Does ordinary soap leave your bathroom dull? Make your sink or tub interesting with these smart little soaps!

Ponder.
Rinse.
Repeat.

2 oz. / .56 g.

NOT TESTED ON ANIMALS 

Made in the USA.