---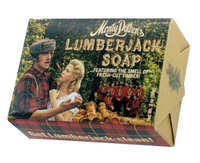 Lather up with something special - Monty Python's Lumberjack Soap! Featuring our favorite Monty Python boys and a refreshing "you're okay" scent, this soap will make you feel like you can do anything - except fell trees, that's the lumberjacks' job! Get ready for a cleanse like no other.
If you're a lumberjack and you're okay, you need Monty Python's Lumberjack Soap. Cut down trees. Eat your lunch. Wash your hands!

[fresh-cut timber scent]


Does ordinary soap leave your bathroom dull? Make your sink or tub interesting with these smart little soaps!
FOAM SWEET FOAM soaps are very nice as a gift or a guest soap.
Ponder.
Rinse.
Repeat.

2 oz. / 56 g.

Not tested on animals.

Made in the USA.