---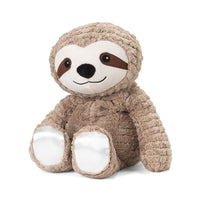 My first Warmies® are made with the softest fabrics and silky satin details that add an elegant touch while providing a tactile feel your child is sure to love.
Like the original Warmies®, these super cute heatable characters are gently scented with French Lavender to help your child feel cozy and secure.
The filling consists of microwave safe polyfill with natural flaxseed grains & dried French lavender, meticulously designed using microwave safe, flame resistant fabric. 
Pop your Warmie in the microwave for one minute and your cuddly companion will release a soothing lavender aroma and should stay warm for at least one hour if heated correctly, longer if it is snuggled in a cozy bed!  Or, place your heatable product inside a plastic sealable bag and leave it in the freezer for 2-3 hours. You can then use it as a cold pack to relieve aches and pains or to cool a hot child. 
Use your Warmie as a snuggle buddy, on injuries, as a heating pad (that you don't have to worry about falling asleep with!), or to cool off on a hot day.  With the weight of the flax seed and lavender, they're squishable and huggable, and have even been used in place of a weighted blanket!
Can be surfaced cleaned with a damp sponge
Approximate size: 12" tall
Suitable for all ages
All heatable products have been tested to ASTM f963-11, EN71-1/2/3, BS8433, and European CE standards. All products have been rigorously flammability and safety tested, and fully comply with CPSIA legislation. Each heatable product is manufactured with extra strong seams, using microwave safe thread and fabrics.