---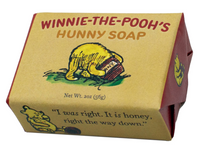 Wash away your troubles with Pooh Hunny Soap – the perfect way to give yourself a spoonful of sweetness! Smelling oh-so-sweet of honey, this Winnie-the-Pooh themed soap will keep you clean with bubbly, bear-y good fun! Take ahold of your own hunny pot, and make your bathroom the envy of all of Hundred Acre Woods – you deserve it!
If you went to a very muddy place and rolled and rolled - or you've got a lot of honey on your nice clean paws - you need Winnie-the-Pooh's Hunny Soap. 
Honey-scented, with oatmeal for scrubbing, it makes a charming gift... or the idea guest soap for your sticky visitors. Now then, into the bath, and don't let me have to speak to you about it again.
[honey and oatmeal] exfoliating
Does ordinary soap leave your bathroom dull? Make your sink or tub interesting with these smart little soaps!
FOAM SWEET FOAM soaps are very nice as a gift or a guest soap.
Ponder.
Rinse.
Repeat.

2 oz. / 56 g.

Not tested on animals.

Made in the USA.