---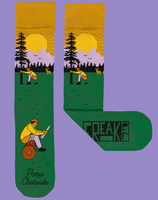 Ready to join those daring weekend warriors and proudly 'go' al fresco? Poop Outside - Freaker Feet USA is the perfect gear to help you answer that unexpected call of nature! Get ready to brave the bushes and trees, and show the world you ain't 'scared of no poop!
Sunshine on my bum makes me happy…
FREAKER FEET - These socks send good vibes up through your entire body.  Some have reported receiving raises and/or life changing good news, all within the first couple weeks of wearing them!  Knit with super soft combed cotton grown in the USA, then spun, dyed, and knit into socks in North Carolina!! 
Contents - 76% Combed Cotton, 22% Nylon, 2% Lycra
Size: 4-13 Men's 6-14 Women's
One Size Fits Most, knit with reduced cross stretch for a better fit!
Machine Wash Cold - Tumble Dry Medium
Made in North Carolina (that means it's made right here in the USA from all USA sourced materials!)
They are stylin, stylish, and now that you know they exist, you probably want them ALL.  I know I sure do!  ;)