---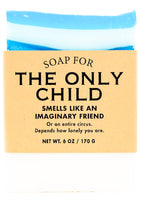 Sharing?

Never heard of it. Y'know, I'll never understand, well, any relationship where I'm not the center of attention. See? Look at my phone. Ten new unread messages from Mom and four from Dad. And we all Skyped like 20 minutes ago. But don't worry! I'm super adorable and the most important person on earth so you'll never get sick of me. Don't believe me? Ask my parents.


Soap for The Only Child
Smells like an Imaginary Friend
Or an entire circus. Depends how lonely you are.
Jules Note:  It's about time, before this I had to use Soap for the Oldest, Youngest AND Middle Child!  ;)
Candy Apple of My Eye Scented
Net Weight: 6 oz
Note: Because all of our soaps are handmade, no two bars are identical.