---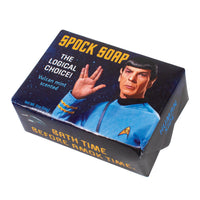 To get clean after Pon Farr or before your Kolinahr, you need clean, Vulcan mint-scented Spock Soap.

Fascinating. Fresh.

peppermint aloe, exfoliating

Try the rest of our FOAM SWEET FOAM soaps!

Does ordinary soap leave your bathroom dull? Make your sink or tub interesting with these smart little soaps!

Ponder.
Rinse.
Repeat.

2 oz. / .56 g.

NOT TESTED ON ANIMALS 

Made in the USA.