---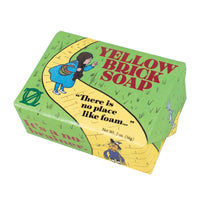 "Didn't you know water would be the end of me?" asked the Witch, in a wailing, despairing voice.

It's true! Washing your hands with a lovey bar of Yellow Brick Soap and some water will be the end of many wicked things.

lemon, verbena

Try the rest of our FOAM SWEET FOAM soaps!

Does ordinary soap leave your bathroom dull? Make your sink or tub interesting with these smart little soaps!

Ponder.
Rinse.
Repeat.

2 oz. / .56 g.

NOT TESTED ON ANIMALS 

Made in the USA.