---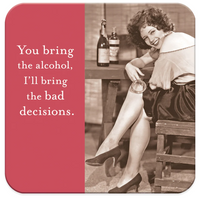 This vintage-style coaster is sure to be a hit at your next party! The perfect hostess gift, the "You Bring the Alcohol, I'll Bring the Bad Decisions" coaster will help keep your surfaces safe - and your guests entertained. Durable and stylish, it's the perfect addition to any gathering.
You bring the alcohol, I'll bring the bad decisions.
Vintage Awesomeness meets Fabulously Funny and puts the FUN in FUNctional!
These cork backed coasters are heat and water resistant, made to withstand years of use!  Made in the USA
3.75" x 3.75"