---
News — Black Friday
Posted by Jules Happy Rone on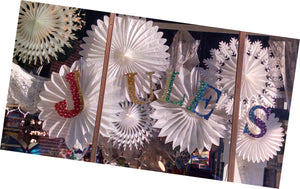 Twas the night of Thanksgiving, and all through the house, not a creature was stirring, we were stuffed full of grouse.   (Ok, we had turkey, and you probably did too, but that doesn't rhyme, so work with me here people, it's called artistic license!) As I was saying ... I looked at my mom, and we lifted our feet, stuffed clear to the top with good things to eat. When what did our wondrous ears hear time after time? The e-mail coming into my phone, going chime chime chime chime! Was it family?  Was it friends? Wishing us...
---
Posted by Jules Happy Rone on
It's a little hard to believe that Small Business Saturday is just over a week away.  It feels like just yesterday it was Spring and now we're getting ready for Thanksgiving, Black Friday, Small Business Saturday, and then it's just a hop skip and a jump to Christmas, Hanukkah, New Years and 2016!  But, those holidays aren't here QUITE yet, so everybody take a deep breath with me.  *breathe in, breathe out, rinse, repeat*  (Feel free to keep doing that as needed.)  I was speaking to a vendor yesterday and wished him a Happy Holiday.  He corrected me to "Merry...