---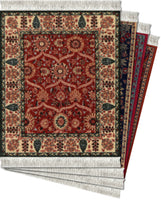 5.5 x 3.5 x .16 in each
Set of 4 Coasters
Looking to make a gift of coasters that really work. This set of coasters include 4 designs that are replica's of rugs displayed in the Metropolitan Museum of Art's Islamic Collection. The designs these replicate are: Shah Jahan, Pashmina Flowers, Star Ushak and Rosette Palmette
This set of coasters include 4 designs that are replicas of rugs displayed in the Metropolitan Museum of Art's Islamic Collection. The four desings are:
Shah Jahan
Pashmina Flowers
Star Ushak and
Rosette Palmette
Produced in cooperation with The Metropolitan Museum of Art from a design in its collection.
The Metropolitan Museum of Art in New York is one of the world's largest and finest art museums. Its collections include more than two million works of art spanning five thousand years of world culture, from prehistory to the present and from every part of the globe. Nearly five million people visit the Museum each year.
The Metropolitan's collection of Islamic art, which ranges in date from the seventh to the nineteenth century, reflects the great diversity and range of Islamic culture. Nearly 12,000 objects have been assembled at the Metropolitan from as far westward as Spain and Morocco and as far eastward as Central Asia, India, and Southeast Asia. The collection includes some of the finest Islamic carpets in existence.