---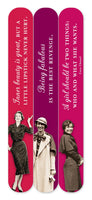 Inner beauty is great, but a little lipstick never hurt.
Being fabulous is the best revenge.
A girl should be two things: who and what she wants. - Coco Chanel
Vintage Awesomeness meets Fabulously Funny and puts the FUN in FUNctional!
3 Fun Emery Boards in a soft plastic case.  Remind yourself how fabulous you are while you fix any minor imperfections.
2.75" x 6.25" x .2"