---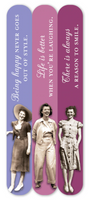 Being happy never goes out of style.
Life is better when you're laughing.
There is always a reason to smile.
Vintage Awesomeness meets Fabulously Funny and puts the FUN in FUNctional!
3 Fun Emery Boards in a soft plastic case.  Remind yourself how fabulous you are while you fix any minor imperfections.
Sturdy and double-sided, makes manicures and touch-ups easy! One colorful side features a vintage photo and sassy saying, with pretty patterns on the back. Each set contains three styles, all in one handy dandy vinyl case. File these under fabulous!
Emery board size: 13/16" x 5 7/8". Package size: 3 7/8" x 6".