---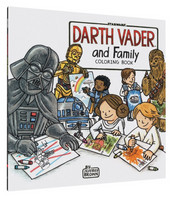 Color you must, Jedi and Padawan.

Color the galaxy with Darth Vader as he rules the Empire and keeps an eye on his rebellious kids, Luke and Leia. Featuring artwork carefully adapted from Jeffery Brown's New York Times bestselling Darth Vader and Son™ series plus nine new images, here's a creative coloring adventure for Jedi Masters and young Padawans alike.

Features images to color in of:
- Darth Vader throwing toddler Luke and Leia a joint birthday party
- A trip to the petting zoo with little Leia, Luke, Han, and papa Vader
- Jabba the Hutt hosting a Halloween trick-or-treat
- Mini golfing through the Death Star with Chewie, little Lando, young Padmé, R2-D2, and a mini AT-AT
- plus forty-three more!
Size: 8 x 8 in;
Pages: 96 pp;
© and TM Lucasfilm Ltd. Used Under Authorization 
Format: Coloring & Activity Books 
Publication: March 2017

Jeffrey Brown is a two-time Eisner Award–winning artist and writer of Darth Vader™ and Son, Vader's™ Little Princess, Goodnight Darth Vader™, and Darth Vader™ and Friends. A lifelong Star Wars fan, he lives in Chicago.