---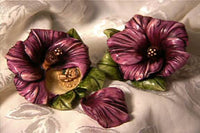 Harmony Garden
Artist: Monique Baldwin
Made In: China
Carving Date: 2000
Release Date:12/15/2000
Retirement Date: 10/15/2004
Edition Size: 5,316
Dimensions (Inches): 2.5 x 2.5 x 1.5

Secrets:
Energized by his newfound spirituality, Lord Byron decides to traverse the Pacific to do some trout fishing in America. The flight is longer than expected, so he enjoys a layover on a tiny island paradise in the Pacific. Byron arrives at the five-beetle Hibiscus hotel suitably decked out in native grass skirt and sunglasses, ready to relax on the beach and drink umbrella-festooned cocktails. After just a few days, he is ready to continue his adventures.