---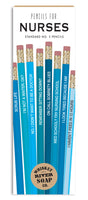 MAY I TAKE YOUR ORDER?

You must be completely delusional if you think I'm a waiter, pal. In fact, I could argue that your very existence is at the mercy of my skilled, capable hands right now. So too bad if you don't like the green Jell-o. Shut your trap and maybe I'll come back to check on you. Key word: maybe.
Nurses Pencils
8-pack Standard No. 2 Pencils
Pencils:
Scrub Life
I'm Not a Waiter, OK?
No, I Didn't Want to be a Doctor
Remember Sitting Down?
On Call Sobriety Blues
Med School? Try Nursing School
I Look Tired Because I Am
I Haven't Peed in 12 Hours