---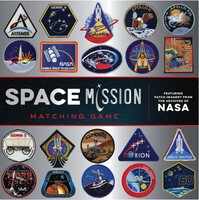 When I was a kid I was a huge fan of matching games, and as I was also fascinated with NASA and the space program in general, this would have absolutely been my jam.  These days I still have a good time with it, but I have to admit I spent more time fascinated by all of the different brightly colored different patches.
Your Mission: Match! Play! Blastoff! Space mission patches celebrating NASA' most notable voyages into space exploration offer hands-on opportunities to hone memory skills and learn about NASA' most awe-inspiring journeys to date.
Mission control, we are go for launch! NASA' most iconic mission badges and patches are on display in this out-of-this-world matching game, perfect for honing memory and introducing players to some of humanity' notable journeys into outer space. Marvel at historic patches that commemorate the very first Mars rovers, the Apollo 11 mission, the launch of the International Space Station, and more . . . just remember where you last spotted each mission memento to win! Interstellar explorers will want to launch into this game again and again!
OUT-OF-THIS-WORLD MATCHING GAME: Featuring striking imagery of the original mission patches of 20 iconic NASA endeavors and die-cut pieces inspired by the octagonal shape of the International Space Station, this is a space-themed matching game like no other.
PERFECT FOR SPACE ENTHUSIASTS: This game featuring a beautiful collection of patches makes a wonderful, year-round gift for lovers of space and space exploration, sure to capture the attention of star-gazers and astronomy aficionados at every age.
FUN FOR THE WHOLE FAMILY: This engaging matching game is visually gorgeous and challenging enough for adults, while having kid appeal as well. Space enthusiasts 4 and up will have a blast mixing and matching these distinctive mission patches together!
STEM MEETS PLAY: Matching games are a wonderful way to provide hands-on engagement with science and history! These mission patches provide a compelling opportunity to learn about explorations of our solar system while building memory skills.
Perfect for:
Fans of NASA
Hobbyist astronomers
Parents of kids who love astronauts and outer space
Givers of science-themed gifts
Puzzle aficionados
Museum-goers seeking a space-themed gift
Teachers and educators