---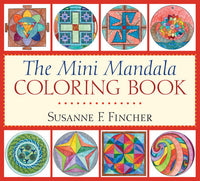 112 pages 
5.50 "W x 5.00 "H x 0.40 "D x
48 portable mandala designs to color that provide a pathway to deeper meaning and personal growth--from the author of the popular Coloring Mandalas series.

Coloring the traditional circular designs known as mandalas is a meditative practice, a healing exercise in times of crisis, and a pleasurable act of creativity. As a symbol of the Self, the mandala provides a connection to our innermost being. The forty-eight drawings presented here for coloring include designs inspired by forms of nature, Native American and Tibetan sand paintings, Hindu yantras, Turkish mosaics, and the art of M. C. Escher. These mandalas are organized according to the Great Round of Mandala, a scheme of twelve archetypal stages that represents a complete cycle of personal growth. Thus, to do the coloring book from start to finish will carry the reader through a balanced experience of change, guided by the accompanying text.
Susanne F. Fincher
Susanne F. Fincher is a Licensed Professional Counselor and Registered Art Therapist based in Atlanta, Georgia, who offers personal growth experiences through creative self-expression in workshops and other events. She is the author of Creating Mandalas and Coloring Mandalas.