---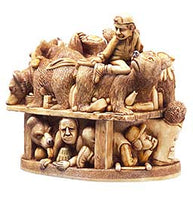 Sale
Artist: Peter Calvesbert
Made In: England
Status: Limited
Carving Date: 1994
Release Date: 1/1/1995
Edition Size: 2500
Dimensions (Inches): 6.93 x 5.08 x 5.91

S e c r e t s:
Unbearables, first in the series of signed and numbered multi-compartment limited edition box figurines, depicts a picnic overrun by eight very hungry and curious bears. The group of six humans and their three dogs have learned a valuable lesson regarding Nature's powerful forces. A shattered television has fallen victim to one of the hairy characters. The mouse is hiding beneath a bear's bottom, next to the dog on top of the picnic table. Carved into the tabletop is a message about Anne Archer, one of Peter's favourite actresses. The wine bottles bear the names "Noel" and "Lisa". Also carved into the table is "Broadway GC", which is a widely used golf club. "Hogs" is carved into an overturned chair, referring to Peter's affection for Harley Davidson motorcycles. The first 772 boxes had empty interiors. The remaining pieces had a mini "Unbearables" inside. Each piece is hand-numbered, signed by the artist and accompanied by a certificate of authenticity. Interior hallmarks include © and HBC logo.