---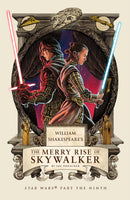 Star Wars Part the Ninth
Book Dimensions: 5 ¼ x 8
Page Count: 176
The Star Wars saga has reached its epic conclusion, but you can re-experience the blockbuster finale in a brand-new way, with The Rise of Skywalker reimagined as if penned by William Shakespeare. Complete your collection of the William Shakespeare Star Wars series!

Come once more unto the breach, dear friends, as the greatest playwright of the English language and the greatest space opera ever filmed make for a perfect match. A sea of troubles threatens the valiant Resistance, pursued by the sound and fury of the vile First Order. Can Rey, Poe, Finn, Rose, BB-8 and their allies overcome such toil and trouble? Shall Kylo Ren be proven fortune's fool, or master of his fate? What will become of the House of Skywalker? And how will the Bard of Avon lower the curtain on this epic saga? That is the question! Authentic meter, stage directions, reimagined movie scenes and dialogue, and hidden Easter eggs throughout will entertain and impress fans of Star Wars and Shakespeare alike. Every scene and character from the film appears in the play, along with twenty woodcut-style illustrations that depict an Elizabethan version of the Star Wars galaxy.
IAN DOESCHER has loved Shakespeare since eighth grade and was born 45 days after Star Wars Episode IV was released. He has a B.A. in Music from Yale University, a Master of Divinity from Yale Divinity School, and a Ph.D. in Ethics from Union Theological Seminary. Ian lives in Portland, Oregon, with his wife and two sons. This is his first book.
"As Shakespeare would say, you might think, this be madness, yet there is a method in 't."—Newsday
"...a quirky addition to the genre-busting canon..."—Entertainment Weekly
"..another smart tribute fans will enjoy."—The Star-Ledger
"Doescher's pseudo-Shakespearean language is absolutely dead-on; this is one of the best-written Shakespeare parodies created for this audience and it is absolutely laugh-out-loud funny for those familiar with both The Bard and Star Wars." --School Library Journal